Being based in Japan, where the free chat application Line is the current king, we wanted to try our hand at making a set of Line picture stamps at some point in the near future. To better estimate how long such a task would take, we did two to start.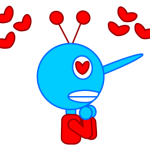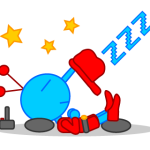 They took a little less than an hour each, but considering some will be harder than others, an hour a piece is a safe estimate. Because Line requires a 40 stamp set, that's about 40 hours of work.
Obviously the show and the games come first, but we'll get a set together a little at a time.
One of the interesting things about changing the Blue Tengu character up for Line is that Line stamps tend to work better with a Japanese standard called "3 toushin" or "three head's worth", meaning that if you chopped the character's head off, chucked it into a 3D printer and made three copies, you'd get how tall the character is (before decapitation). The "3 toushin" style is associated with cutesy manga because it's so child-like, so you'd recognize it if you saw the character Anpanman (Bean Paste Man…). You can take the concept even further with "2 toushin" and get Doraemon, which is basically a head with a body that could fit snug in that noggin. Apparently the Anpanman character used to be "8 toushin", which is about the head-to-body ratio you'd expect of a supermodel (and a lot of 3D printing of heads). Most regular folks are around 6-7, so the supermodel version of Bean Paste Man must have been something to behold (and very unappetizing…).
Line Stamp Experiment
was last modified:
June 26th, 2014
by