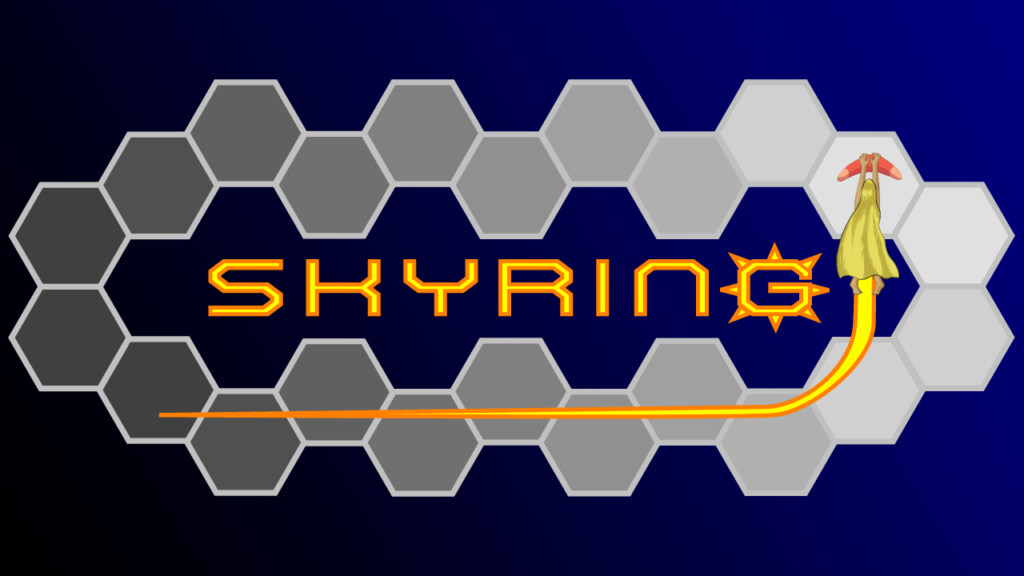 Skyring has launched!
Now you can circle enemies to destroy them before they destroy you.
A year and a half in the making, we finally released our second game over at itch.io. Even after working directly on more than 20 games in over 13 years in the video game industry and helping with many more in both a professional and a hobby setting, it never stops feeling strange whenever a game is "finished", because it always feels like there's something more to be done. Some task that should be added over at Trello. Some extra bit of promotional material that needs to be done. Some hidden bug that needs to be squashed. But the truth is, that feeling is a nervous excuse for not putting a game out in the player's hands. Players can be hard on games, players can curse, call you names, tell you to leave game development, say you should crawl under a rock and die rather than waste their time – I am one of those harsh players. But players can smile when they "get it", they can enjoy the story you've created and carry it with them for years, they can get pulled into the world you created from nothing. Players can be a lot of things, but they can't be anything until they have your game.
The reason developers like myself always get that icky, jittery feeling before launching a game is because, no matter how good or bad the final result, we've honestly put a lot of work into it, and, unless we're flying high on some removed-from-reality-I-am-an-auteur sauce, we recognize there are flaws, things we could have done better, but we hope that someone out there will forgive us those flaws and enjoy the work we've devoted to making a fun experience. And that feeling only gets stronger on solo or small team projects than big team projects, because so much more of ourselves goes into the game. Like other developers, I have lost a lot making my game: hours when I was sick and should have been resting but decided to get "something done"; hours carved from an already desperate sleep schedule; hours I could have spent looking for a better job; hours I could have poured into my school research; hours I could have been relaxing or hanging out with friends; hours I could have been playing with my son or talking to my wife. And this time around, it's not just my hours, but their hours, and hours the incredible artist 123gas321 has lost helping me to make the player's character who she is, and hours our viewers have spent cheering us on or giving us ideas. That is a lot of time – time that can never be returned.
When I first started Blue Tengu, I promised to show everything that went into making a game from concept to completion, and, now that our second game is complete, it's time to show what goes into finishing a game and putting it out there – the hardest thing a developer can do: releasing a game into the world. Throughout the show, I have always said there is value in completing something. There are two reasons. One, there is so much to be learned in that last 1% that can never be learned in the other 99%. To be honest, the other 99% is fun. It's easy. It's exciting and full of possibilities. It drives our hacker sensibilities. The last 1% is polish. It's tedious. It's mind-numbing. It's deciding to say "no" to things, very cool things. It takes so much longer than we want. It's time we could've been using to do another 99%. It's the "crap" we put off for the end because we really didn't want to do it. But, as with other things in life, it's dealing with "crap" that causes us to grow the most. It's the last 1% that's the difference between a book and an unfinished manuscript that just needs "a little more work" languishing dusty and unread – a dead world with unborn characters – in a dark corner. It's the difference between life and death. It's the 1% that counts, because it's the 1% that transforms an experiment or a bit of fun into something other people can evaluate.
And there's the second reason there is value in completing something. This is the real reason. It hurts. It's scary. It's thrilling. It's all those things that happen when ideas meet the real world because you've put them out there and people can do with them whatever they please – horrible or wonderful things that you may have never intended. They can love your ideas or they can hate them. And it's the moment when you discover just how good or bad your ideas really are. It's the moment when "your baby" is no longer yours, it's theirs. Our first game, Project Spaghetti isn't my game anymore. It has been yours for over a year and a half now. From the bottom of my heart I hope you really enjoy the result of more than 600 hours (618.5 according to the Trello estimate) of the work that has gone into making Skyring. But Skyring isn't my game anymore. It's yours.
Skyring has Launched!
was last modified:
January 29th, 2017
by