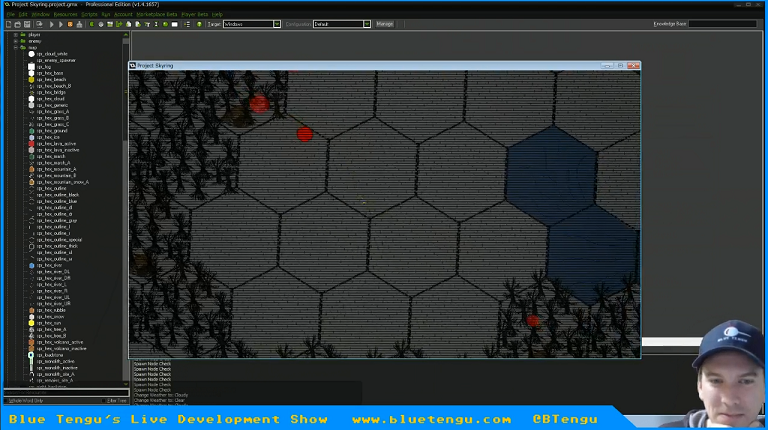 In this episode of Blue Tengu's Game Development Show, we take Project Skyring's visuals in a new direction when we try out a hand-drawn look and test it in grayscale, thicken up the shadows, and then move to secondary colors for creepy (the good kind) results.
We wanted to change the visual look from a standard pixel-art look to something a little different. Our season one game, Project Spaghetti was well served by the retro Commodore 64 sprites because it was a love letter to the system, and the game itself was designed to evoke a very nostalgic experience. However, Project Skyring is different. When we first started the season, we mentioned horror as being one of the themes, and, while there are plenty of examples of pixel art used to great effect to create a feeling of dread, we're more open to trying different styles.
At first, we were thinking of a black and white, hand-drawn style, but, while black & white can serve some games very well (Neverending Nightmares comes to mind as a perfect example of a hand-drawn black & white style used well), we did feel that so few colors would get a little long in the tooth over the course of an open exploration game. Also, black & white tends to fit a certain type of world, and that's a very different one from the one we're making. However, we didn't want to just go full color like we were doing, because the vividness would take away from the inky dread we were hoping to create. Courtesy of viewer IronImp, we were able to find a great middle ground with a secondary color scheme. (As opposed to primary colors, like the ones used on this site.)
When we put the graphics in, the visual style really clicked, and, with a suggestion from viewer Sirus654 to thicken the shadows, we were off and running.
Game Development Show Tasks Worked on This Episode:
Convert Hand Drawings to Tiles
Test Hand-Drawn Tiles in Grayscale
Test Shadows with Hand-Drawn Tiles
Test Hand-Drawn Tiles in Secondary Colors
---
Thank you again to viewers IronImp and Sirus654 for helping us nail down an art style!
Blue Tengu's Game Development Show – Season 2, Episode 32
was last modified:
March 16th, 2016
by