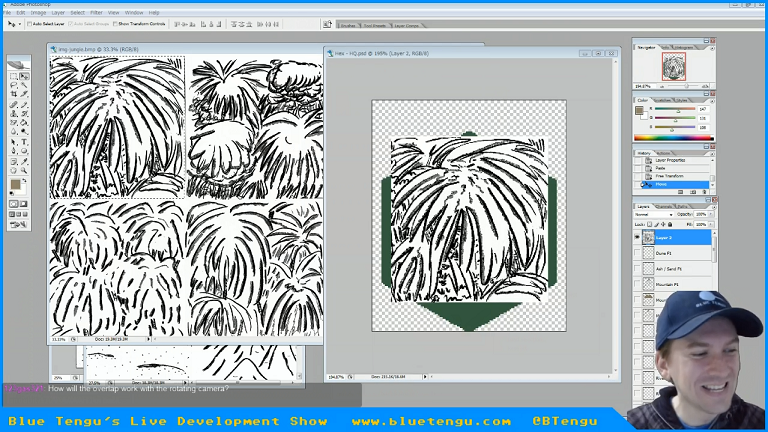 In this episode of Blue Tengu's Game Development Show, we return to the game's world and start adding in the tiles for the other room and climate types, starting with the desert and jungle areas.
While Eric was away welcoming his son into the world, he had time to hand-draw the initial set of game tiles using the very convenient Japanese brush pen mentioned in an earlier show. All of the images were scanned in, but the work of actually bringing those tiles into the game still remains. To get started, we wanted to fill in the desert and jungle area tiles with at least one of each type of tile, not just to get it in the game, but to also test the hand drawings to make sure they would work.
The desert worked fine, but the jungle tiles will need a little work to convert from the squarish drawings to the more rounded hex tiles used for the ground in Project Skyring.
We'll continue to add tiles for these two levels, along with the others.
Game Development Show Tasks Worked on This Episode:
Add Sand & Ash Tiles
Add Dune Tiles
Add Jungle Tiles
Add Marsh Tiles
---
Thank you again to Pandabitz for your generous tip!
Blue Tengu's Game Development Show – Season 2, Episode 34
was last modified:
March 16th, 2016
by