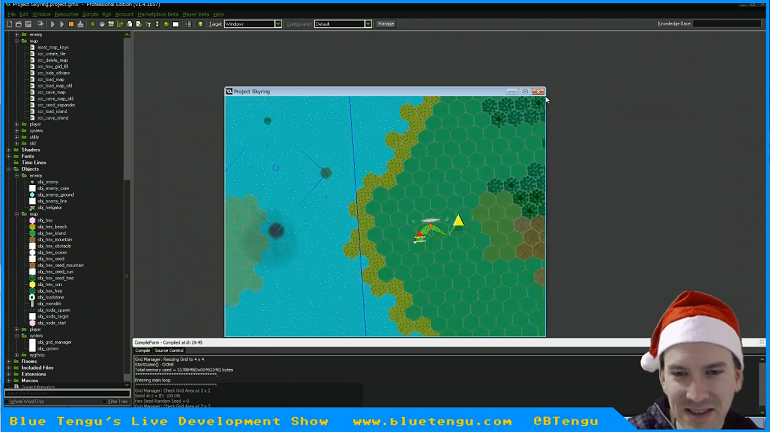 In this two-part episode of Blue Tengu's Game Development Show, we celebrate Christmas by implementing snow and ice terrain into our maps, giving Pandabitz's heligator a Santa hat, and then bringing back Twitch chat functionality from our Season One game, Project Spaghetti.
First, in part one, we modify the heligator enemy to be a little more festive before moving on to the meat and potatoes of the episode, which is adding new types of terrain. We want to make the world feel big, so having the same types of islands everywhere, no matter where you go, isn't going to work. In the spirit of Christmas, we make our first expansion tiles snow and ice.
The changes aren't just cosmetic though, because snow slows the player's movement down versus the verdant green plains tiles we've had so far, and ice is slippery, maintaining the player's momentum for a few frames until they can overcome it and move in another direction.
Game Development Show Tasks Worked on in Part One, Episode 23:
Christmas Version of the Heligator
Snow and Ice Versions of the Ground Tiles
Slippery Ice Movement
In part two, we go back to our Season One Game, Project Spaghetti, and bring over the Twitch chat interactive functionality we had going. Our source isn't very modular, so it does take a bit of work to get everything copied over, but once we do, we add five commands for interacting with the game and will continue to add more in the future. If you have any ideas for Twitch commands you'd like to see as you watch the game being developed, feel free to let us know!
Game Development Show Tasks Worked on in Part Two, Episode 24:
Import Twitch Chat Functionality from Project Spaghetti
Add Twitch Commands that Affect Gameplay
---
And a very special thanks to Pandabitz for your very, very generous donation.
Blue Tengu's Live Game Development Show – Season 2 Christmas Special (Episodes 23 & 24)
was last modified:
January 11th, 2016
by