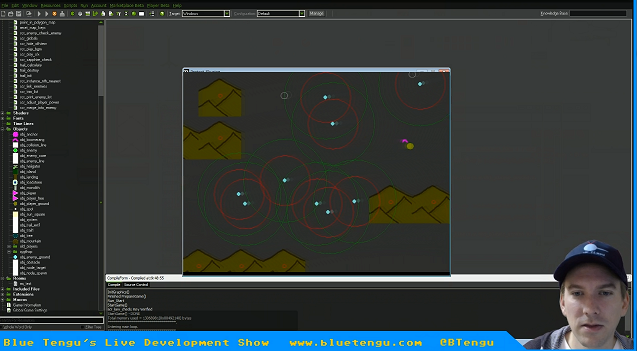 After surviving Friday the 13th, we finish off the ground enemy AI by getting them to move around and attack the player whenever the player gets too close or makes too much noise. We also put a limit on the range for the boomerang setting off the ground enemy charge, so we're in a good place with the AI and ready to move on to the map starting next episode.
Tasks Worked on This Episode:
Enemies on the Ground Move
Ground Enemies Stream from Woods and Mountains
Ground Enemies Attack Player if Player is Close
Ground Enemies Only React to Boomerang in a Certain Range
---
Thank you to viewer Holofire for the generous donation this episode, apologies for not noticing the announcement when it popped!
And for Holofire, Pandabitz, HeyAbbot, and Sirus, hope you had a good pizza night! Thank you for keeping us hungry.
Blue Tengu's Live Game Development Show – Season 2, Episode 17
was last modified:
November 14th, 2015
by