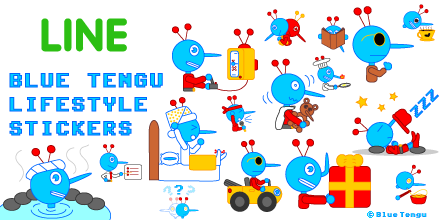 Yes, our own set of Line stickers is finally up on the Line Creator's Store! We made this set of 40 stamps starting last summer and finishing back in the fall and have been waiting patiently for them to land on Line ever since the submission.
For those of you who don't know what Line is, it's a chat application, complete with free calls, that's huge in Japan and some other parts of the world. If you do know what Line is, and want a very strange set of stickers to use, we've got what you need. We wanted to make a set of stickers for fans who use Line, and, even though it was a lot of work, we're happy we did it.
Before starting the project, we were familiar with Photoshop (the same graphic design tool we use for our pixel art in Project Spaghetti), but with Illustrator? Not so much. However, after drawing up 40 unique pictures with our Blue Tengu mascot, we learned just how powerful the program is for design tasks. The power comes from vector graphics, which allows for easy scaling. In Photoshop, if you lay down the pixels for a 200 x 200 image, then later want it to be 50 x 50 or 400 x 400, things start looking bad. But with vector graphics, everything is composed of, well, vectors, or lines, so the visual look can be recalculated on the program side to look good at almost any size.
If you've ever tried a vector drawing program like Illustrator or Corel but given up, it's well worth trying it again, because it could save you a lot of work down the line. We never would have made 40 stickers in the time we did had it not been for Illustrator. And we hope some of you out there enjoy the fruits of our vector labors.
The Road to Line Stickers
was last modified:
February 23rd, 2015
by