We're down to the last week before the launch of Blue Tengu's Live Development Show on Twitch.tv. For those of you in the US, it starts on Independence Day, but here's a more detail rundown of the times: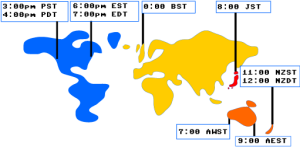 July 4th
US & Canada:
4:00pm – 6:00pm Pacific
5:00pm – 7:00pm Mountain
6:00pm – 8:00pm Central
7:00pm – 9:00pm Eastern
July 5th
0:00 – 2:00 UK
8:00 – 10:00 Japan & Australia (West)
9:30 – 11:30 Australia (Central)
10:00 – 12:00 Australia (Eastern)
12:00 – 14:00 New Zealand
But the best way to know when it's happening is to follow us on Twitter, where we'll be announcing the show before it arrives and when it starts.
Less Than One Week to Go!
was last modified:
June 30th, 2014
by