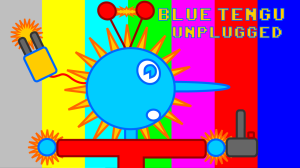 We got the microphone situation sorted out on today's Blue Tengu Unplugged, the irregular show where Eric dives into his stack of Steam games to unwind a little, so we'll be making the episode, which features You Have to Win the Game and Octodad, episode one. We'll also add last week's test episode to our YouTube channel and the playlist, because, even if the microphone was way too quiet, the games Eric went over (Among the Sleep, Spelunky & Race the Sun) deserve a shout.
The Playlist of Unplugged Episodes can be found on our Broadcast: Archives page, or by visiting YouTube here:
Of course the main show starts next Saturday, so subscribe to or bookmark the Twitch.tv channel and we'll see you then!
Blue Tengu Unplugged – Episode 1
was last modified:
June 30th, 2014
by