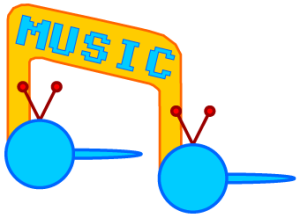 Three new tracks for the upcoming show
are up on our Soundcloud page.
They're all for use in the "Intermission", which follows the attempt of the Blue Tengu  development team, including characters like Steve and Bob, to make a video game. All of the new songs are on the Music page, along with the others, but you can listen to them by hitting the Play button on any of the links below.
Season 1 Title & Game Over Waltz

Season 1 Home Office Theme

Season 1 B. Grimm's Lair Theme

All of these tracks were designed in Linux MultiMedia Studio. If you want an open-source solution to music creation, that's the way to go. We did a little experimenting with two new VST plugins: ASynth and Tyrell N6 V3 , though we only went with Tyrell N6 V3 in the tracks. We also used our favorite, the Synth1 plugin, and "Grimm Lair" uses a few of the more sinister sounding plugins from the Krakli free VST collection. One word of warning for those of you who do want to experiment with VST plugins in Linux MultiMedia Studio, the program will crash…a lot. So save after everything. Put a beat down? Save it. Found an instrument you like and added it to the bar? Save it. Not sure whether you really need to save it? Save it, twice! It's frustrating to deal with at first, but you'll start to get used to the program going down every few minutes. Whether that's a good thing or not…who can say?
To add a VST to LMMS, click on the Instrument Plugin tab on the left and select the VeSTige option. Then browse to the .dll files you extract after you grab them. For Tyrell N6 V3 or Synth1, they'll both include options to browse for presets. It'll take you a day to go through them all, and you won't remember which ones were where unless you take some good notes, but it's fun to play around with them.
And with that, the last of the music tasks before the launch are done!
New Music for the Blue Tengu Show
was last modified:
November 3rd, 2015
by