Blue Tengu's show is going to need a lot of video, so we went through a few video editing programs today to see which one is going to do the job we need. Obviously if we had cash to burn (about eight hundred dollars worth), Adobe Premiere Pro would be the industry standard option to run with, but before making that kind of leap (or even the leap to Elements) we looked into several free programs. Of the two, either Lightworks or Blender will do the job we need. They both have a complete suite of editing tools along with all of the cutting/transitioning features we wanted. So we took some old Spelunky and Race the Sun play videos and ran them through the ringer.
Of the two, Lightworks was much, much easier to use. Eric managed to get around Blender because he has used it in the past and could wrap his head around some of the quirks (right mouse button doing everything, middle mouse button to scroll, etc.) but Lightworks was intuitive straight out of the virtual box. A great tutorial series is available at from editshare on YouTube. With the free version, the video output is ready to go for YouTube as well (assuming 720P resolution). It even has an option to auto upload! But that's where we hit the drawback. Want to output anything else? Reach into your pocket and pull out $249.99. Yeah, there are the trendy monthly and yearly subscription options, but here at Blue Tengu we hate the idea of overhead (i.e. a hole in our pocket we can't fix), so the only option worth considering to us was the $250. Cheaper than Adobe Premiere Pro CS6, sure. Cheap enough to bust out the credit card? Not if we have anything to say about it. And that brings us to…
Blender: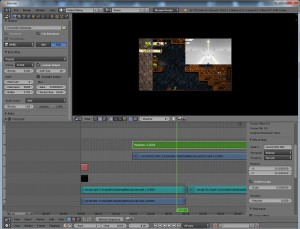 Look a little more complicated? That's because it is. Blender is not just a video editing program. In fact, so many people associate Blender with modeling, rendering, and animation that they don't even realize it has a fully featured video editor. And, like we mentioned above, getting used to the controls in Blender is an art. However, with that gripe out of the way, there is something weighing heavily in Blender's favor. It's free. Yes, that's right: Free. And unlike a lot of other free programs, it actually supports all of the different encoding options, with very fine control over how you want your output. Kind of makes the unfortunate learning curve of the control scheme worth tackling. However, there is someone out there who has done an excellent job of boiling Blender down to the essentials for movie editing. Check out Mikeycal Meyers and his video series. It'll get you where you need to be to do all of the cutting and transitioning you need, with a few advanced subjects thrown in for bonus. Will using Blender screw your sense of control up for any other program ever made? Yep. But it might be worth it. There's also one other benefit to using Blender if you're worried about your pocketbook. Once you get used to all of its quirks, you can jump right into all of the other features: modeling, rendering, and animation, and that means not having to fork over a lung to buy a beast like Maya.
We're not dead set on one or the other, but given Blender's advanced options, we'll probably fall on that side of the fence for our video editing… Unless Eric pulls out all of his hair first.
Video Editing Decision
was last modified:
July 13th, 2014
by