Archives by date
You are browsing the site archives by date.
Chris Deleon (@HobbyGameDev) deserves props for being so active in trying to stir up the independent game making community, with a focus on hobbyists (the people who don't have 40, 50, 60, 7×24=168 hours a week to make games) http://www.hobbygamedev.com/int/lost-levels-at-gdc-2014/ Absolutely. With the independent video game gold rush that seems to have sprung up since […]
Any developers interested in knowing more about what's going on with Unity should check out the Unite conference archives. A trip to the Unite Conference they held in Tokyo (2014) opened my eyes to how valuable these sessions can be. For live development, I'll be using GameMaker Studio because, although I'm much more comfortable in […]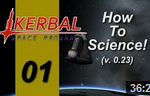 If anyone out there is a Kerbal Space Program fan or a Minecraft fan, check out my bro's YouTube channel: JimorGames He's putting a lot of work into making Kerbal make sense, so if you're struggling to figure the game out, especially getting the science you need to fill out the tech tree, check his […]
While I get things set up, feel free to check out the month of Spelunky Daily Challenges and Race the Sun Runs over at my personal Twitch.tv channel: http://www.twitch.tv/tengu2001 The archived videos are listed on the right under "Videos". Looking them over is giving me the Spelunky itch, but I'll do my best to resist […]
After hours of searching through all of the WordPress calendar plugins, I finally found the plugin that does what I was doing over at WordPress.com: ICS Calendar feed. If you like the "Upcoming Events" feed on this site and you run WordPress, that is definitely the one you should be using. Why so picky? Well, […]
Thanks to YoyoGames 50% off sale, I picked up the iOS and HTML5 development modules to hook into GameMaker Studio Pro. I was sweating that expense, so the timing was perfect. For anyone who is interested, their sale runs through tomorrow, though they do seem to have sales now and again. If you're not in […]
Blue Tengu is a game development studio seeking to demystify game development through live broadcasting all the way from game concept to approval and distribution. It might be awhile before everything is in place to begin the show Summer 2014, but it's coming.